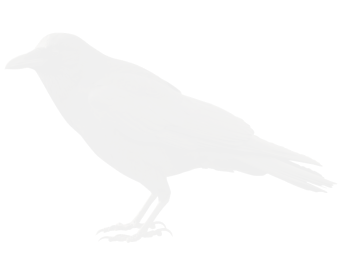 Fire pits
The rusty metal lends itself perfectly
to many fire pit designs. The deep
circular designs offer a lot of room for
decorative treatments, whether you
like swirls, geometric patterns, polka
dots, or scalloped edges along the top.
My "eclipse" fire pits, shown at the top
of the page, are both functional and
fun. Such a simple design for your
yard or patio!
Products
I'm pleased to offer a variety of metal pieces, some decorative, and some functional. Below are some of the categories, but my gallery will show you a
wider selection of my work through the years. Be sure to check that out!
Crows
Gotta love them! Using upcycled metal
parts these fun crows will stay put.
Each one is unique of course, and sits
on a solid base.
Heron, garden animals+
It's hard to resist creating beautiful
creatures for your garden, so I have
quite a few to offer. The Great Blue
Heron is a nice choice. But don't stop
there. Butterflies, snails, an aardvark,
you might even find a roadrunner in
the mix. On the larger side, look for
horses, bells, sculptures, even a 5'
seahorse!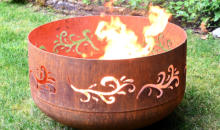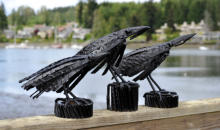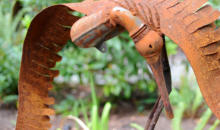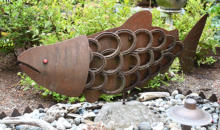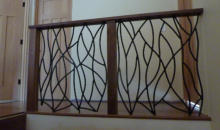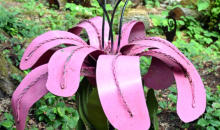 Seasoned Salmon
No, not that kind of seasoning! The
rusty kind… Adorned with
horseshoes, these salmon come in
three sizes and are awesome! Get one
to swim upstream in your yard soon.
Garden gates, rails
I design custom garden gates, trellis',
benches, and stair railings for indoor
or outdoor use on an individual basis.
I'm happy to show you what I've done
in the past, and work with you on your
project. The photo gallery has
samples, too.
Flowers
What would the world be without
flowers… These metal flowers are
finished in fun colors, and meant to be
outdoors in the elements. Some large,
some small, I have a variety of colors
and styles that stand on their own or
can be staked into the ground.

© 2020 Dick Strom. BapaTom's Metalworks. All rights reserved. Bainbridge Island, Washington, USA